---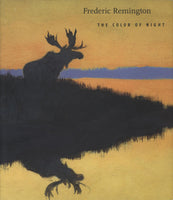 Author: Nancy Anderson with essays by Alexander Nemerov and William C. Sharpe.
In the decade preceding his untimely death, Frederic Remington (1861-1909) produced a series of paintings that took as their subject the color of night. This richly illustrated volume is the first to present all of these works--some seventy paintings that secured for Remington the critical acclaim he so coveted. Indeed, these magnificent nocturnes marked an important new direction for the celebrated illustrator, writer, and sculptor of America's vanishing frontier.
In these deeply personal works, Remington explored the technical and aesthetic difficulties of painting darkness. Surprisingly, his images are filled with color and light--moonlight, firelight, candlelight. Focused on the subject the artist had made his own--the American West--these paintings reflect Remington's dramatic reworking of the narrative tradition as well as the spare modernism of his late work.
As the definitive resource on Remington this features stunning paintings--including newly conserved works and others not seen publicly since the artist's death--with commentary from his personal diaries and letters and from contemporary critics.
Book condition: New
Number of pages: 208
Paperback.
Princeton University Press; New edition edition (April 1, 2003)